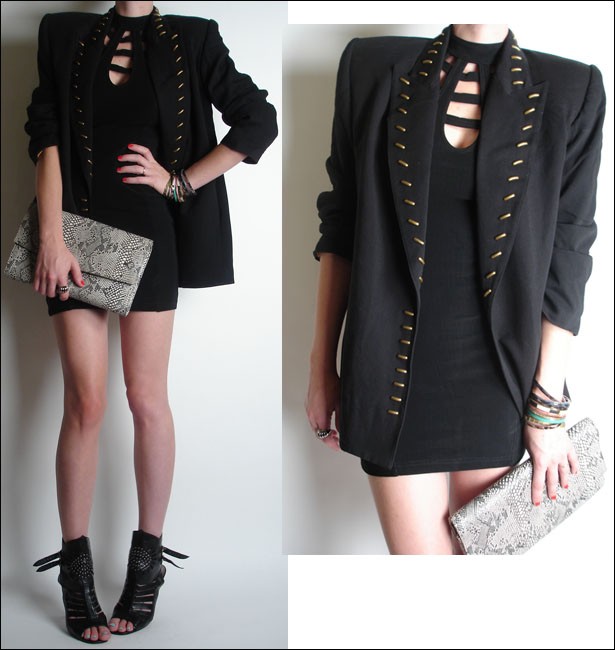 Yes, yes, strictly speaking
this
isn't a boyfriend jacket--the vampy gold-staple embellishment pushes it into the power-suit section of the 80s vintage rail. But it does have a broad-shouldered, slouchy vibe going, and is brilliantly ensembled by the vendor. So as part of a ongoing
series
of entries on how to style vintage pieces as demonstrated by eBay and other online sellers, let's take a closer look at why it looks so good.
Pattern harmonies
: check out how the lattice effect of the dress's cutouts echoes the dashes on the jacket. The slit effect shows up again down on the shoes. Our mind registers shapes, even negative shapes, as strongly as it does positive ones. It's helpful to keep this in mind when you're trying to rig different parts of an outfit together, especially when you're working with blacks.
Proportion harmonies
: see how the broad shoulders are balanced by the winging straps of the glad heels.
Texture harmonies
: note how the nailhead rounds on the ankles subtly replicate the scales on the oversize snakeskin clutch. It's low-key, even accidental details like these that build to an amazing overall look.
(Obviously the dress is shorter than many of us can actually wear. I reckon the jacket would also look amazing with a longer knit dress or skirt, or with well-cut tapering black capri-length trousers. Do try to find shoes as killer contemporary as these heels.)