Every once in a while a photo shoot comes along that blows me away. Such is the case with Paul Wetherell's work for the current issue of
Another Magazine
. Styled with brilliant restraint by Mattias Karlsson, the model wears Gucci, McQueen, Sander and the rest of the best with lots of bare skin and a broad metallic cuff worn outside the sleeve, mid-upper-arm.
And one more thing: the hair. This is big hair. Pumped up, combed smooth and shellacked into queenly proportions, alternately reminiscent of geisha and Nefertiti. Completely and literally over the top, but it works thanks to the elegant cut and thrust of the garments. The headwear devised for the shoot is equally striking, as you can see . . .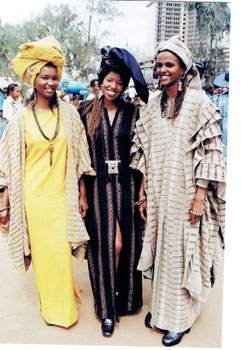 Does any of it translate into something you could carry off on the street? The swirled confection shown here nicks from the similarly massive head dresses customarily worn in Nigeria, but I venture few of us could get away with this kind of volume on the streets where we live. Probably true even with the more restrained versions offered up in Ralph Lauren's current ads . . .
If a turban isn't your thing, there's still a way to style your inner queen: wrap and knot a scarf around your head, then top with a wide-brimmed straw hat. It's a great summer look that isn't extreme, plus an excellent way to keep hair behaving at the beach.